With a Her Captivating Smile and Exceptional Charisma, Nelly Karim Earned the OOH Scene in 2 Orange Campaigns, and Zanussi
Let's admit it; Nelly Karim is an artistic phenomena. Whether you are a TV drama fan or not, you'll recognize who is that beautiful light-hearted ballerina is. You won't be able to point your finger at why she is a superstar? Is it because of her remarkable choice of drama series? Maybe her exceptional skills as a professional ballerina? Probably her exceptional charisma that you'll catch immediately once you see her face on TV screens, Whatever the reason is. We hear you! We know that Nelly's extraordinary magnetism won't fade anytime soon.
This will lead us to the following question: Why would a brand choose Nelly as their brand ambassador? Before we go any deeper, let's first mention that Nelly Karim, during the second quarter of 2022, participated in 3 campaigns. Two of them were for the same brand, which is the telecom network Orange Egypt. And the third one is the home appliances brand Zanussi. What's mention-worthy that the latest Orange Egypt campaign was released on 22nd June, which was a critical time before the second quarter ends and the start of Q3. Yes, very crucial, especially in a high stake race like OOH advertising.
Therefore, it is rational for the two brands to bring a star-like Nelly Karim in their campaigns since her characteristics align with the campaigns' marketing strategy plan. And that's what we will discuss in detail in seconds.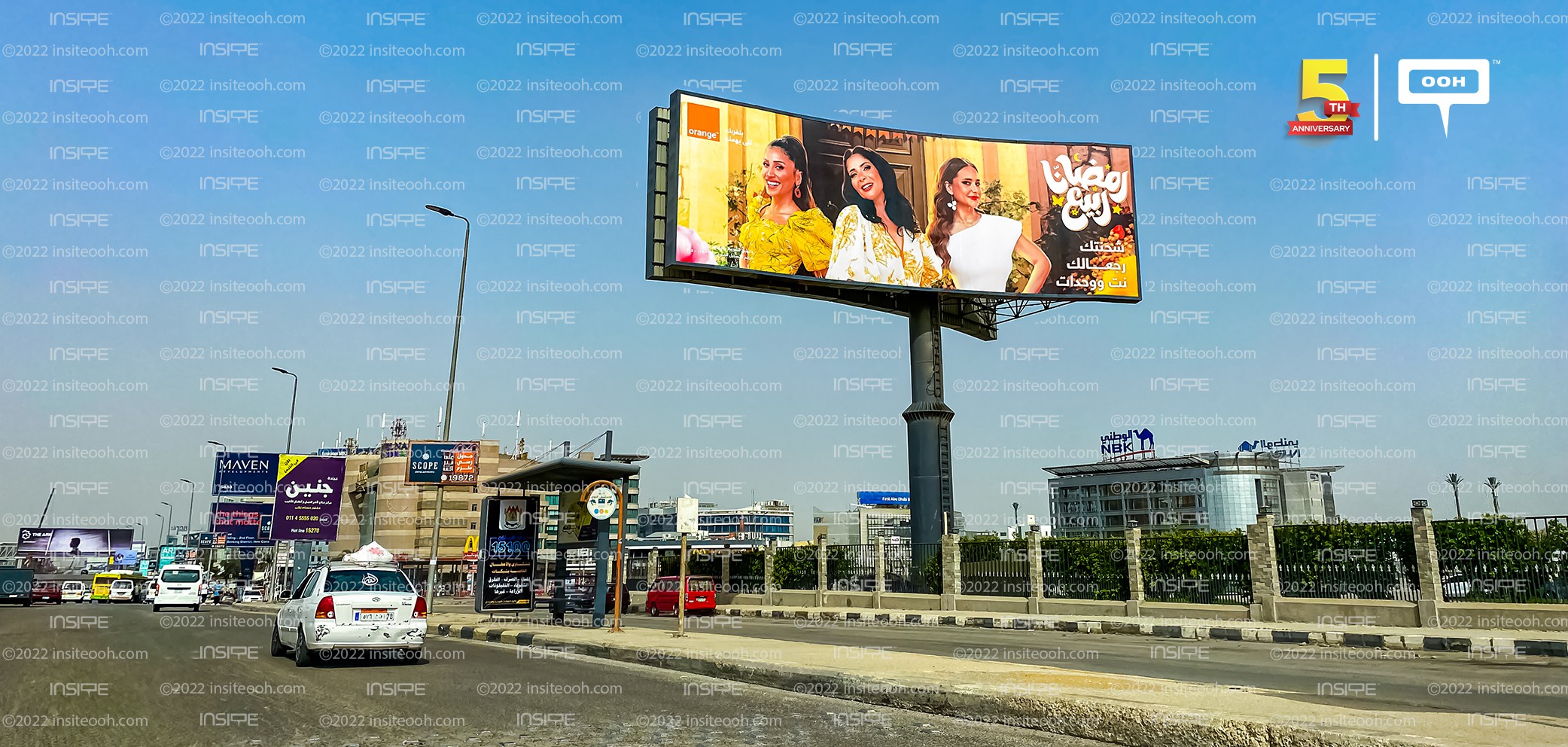 Nelly Karim Turned Ramadan to Spring on Orange Egypt Outdoors Billboards
This campaign was a success on many levels. It was a share between 3 beauty icons Nelly Karim, Mona Zaki, and Dina Elsherbiny. And the main purpose of this campaign is to add high-spirited, energetic, and springy vibes to Ramadan campaigns that are usually known for different narratives. You can easily put your finger on it starting from the actresses' floral outfits to the background of the ad copy that's filled with the brand's primary color plus the floral style that will send you the message immediately.
The message of this campaign was "Our Ramadan Is Spring" "رمضانّا ربيع" to complete the beautiful painting of Orange Egypt mounted on every street in Greater Cairo.
Nelly Karim and Hisham Ashour X Zanussi Taught Us the Rules of Harnessing a Billboard
So, since last year and when Hanady Mehanna and her spouse Ahmed Khaled Saleh starred in Zanussi's campaign, it was quite a successful campaign. Zanussi decided to play it safe and follow the same segment by bringing another newlyweds/celebrities.
This year's couple was nothing less popular than the previous couple. Nelly Karim and the squash champion and actor-to-be Hisham Ashour were a perfect choice, and here's why it's one of the primary keys to mirroring your target audience to sell the idea. Speaking the same language as your consumers save a lot of convincing time. And that's what the home appliances brand did precisely. Newlyweds mean a new home with new modern appliances. Reflecting how life is easy and smooth. That was the exact theme both couples followed and succeeded at. And to complete the message of the ad, the brand used a brilliant motto which is "We're Ahead with miles" سابقين بمسافات".
The target audience is newlywed couples and couples who are furnishing their house pre-marriage, choosing Nelly and Hesham was hitting the bull's eyes. Kudos!
Nelly Karim and Orange Egypt Again Because Why Not!
It seems like Nelly Karim and Orange Egypt will be a running theme. And we're not mad about it at all! This campaign actually was a share between her and the superstar Karim Abdel Aziz. The campaign is between Orange Egypt and Spotify. As it announces a strategic partnership to provide its customers across Egypt with access to a personalized music experience through Spotify Premium.
We cannot deny the chemistry between both stars that creates a very harmonic billboard. The choice of Nelly and Karim we think it's because of the broad fan base both of the stars have. The campaign is so energetic and full of life.
Different Approaches and a Chameleon Superstar That Can Handle Them All
The main reason Nelly Karim won this quarter undisputedly, was nothing but her skills and nothing else. The megastar can do literally everything. From being a playful character to a TV drama queen to a model to a ballerina. Even comedy! And when a brand considers her as an ambassador that means the brand knows exactly how to pick up a strong contender to make their brand stand out amongst the competitors
Zanussi and Orange Egypt did it as it should be by using Nelly's elegant appearance.
Though both brands went viral by using humor in their marketing strategy, they did so with different approaches. Zanussi, for example, used the concept of mirroring, while Orange Egypt used the energetic vibrant side of her personality, so all ideas served marketers to connect and reach the target segments. We are waiting to see more Nelly-related projects and collaborations in the future with more brands.
---
Your opinion counts!
Come on, tell us what you feel about this article.